The Louis Vuitton Pillow Ankle Comfort Boots have finally dropped, making us fashionistas extra stoked for the winter season! These boots first made their debut in Louis Vuitton's Spring 2021 show at Paris Fashion Week where Nicholas Ghesquiere shared his thoughts regarding this collection.
From the designer himself:
"My question this season was less about one theme; it was about this zone between femininity and masculinity," said the designer, Nicholas Ghesquiere. "This zone is highlighted by non-binary people, people that are taking a lot of freedom dressing themselves as they want. In turn, it gives a lot of freedom to all of us. I found it inspiring to explore what the items are that represent this wardrobe that is not feminine, not masculine. I wanted to zoom in on that section in between."

Nicholas Ghesquiere, Vogue ©
The Pillow boot already seems like a cold-weather essential. It's got quite the take on the traditional winter boots. They awfully remind me of the Ugg boots. They're made from a water repellent nylon warm down filling. The uppers have a refined quilted finish, while the lining features the iconic Monogram pattern. Their 'sock-like' inner layer in mesh textile ensures a perfect hold of the feet while offering comfort. It's got a lightweight, napper leather sole and can be worn both indoors and outdoors.
My honest thoughts
When I first saw these boots, I took a couple of moments to inspect them properly from my laptop screen. Whilst watching the digital fashion show, thoughts were gathering in my brain. Hmph, cute. I thought these boots were pretty eccentric and weird, but with all the twist and turns 2020 has thrown at us, I'm not the slightest bit surprised. They remind me so much of Ugg boots, but with LV's twist. Although, I have never been a fan of Ugg boots, the Louis Vuitton version, I might consider. They do, honestly, look incredibly comfortable.
Updated: I received the LV Pillow boots. Look at how I styled them here
These pillow boots are available in a black, khaki and white version. The black and khaki are currently listed on the website, which you can shop here.
Unboxing the Louis Vuitton Pillow Boots
---
How Much Do Louis Vuitton Pillow Boots cost?
The Louis Vuitton Pillow boots cost £835, which is also $1,170.00. They are available in black, beige and khaki colours.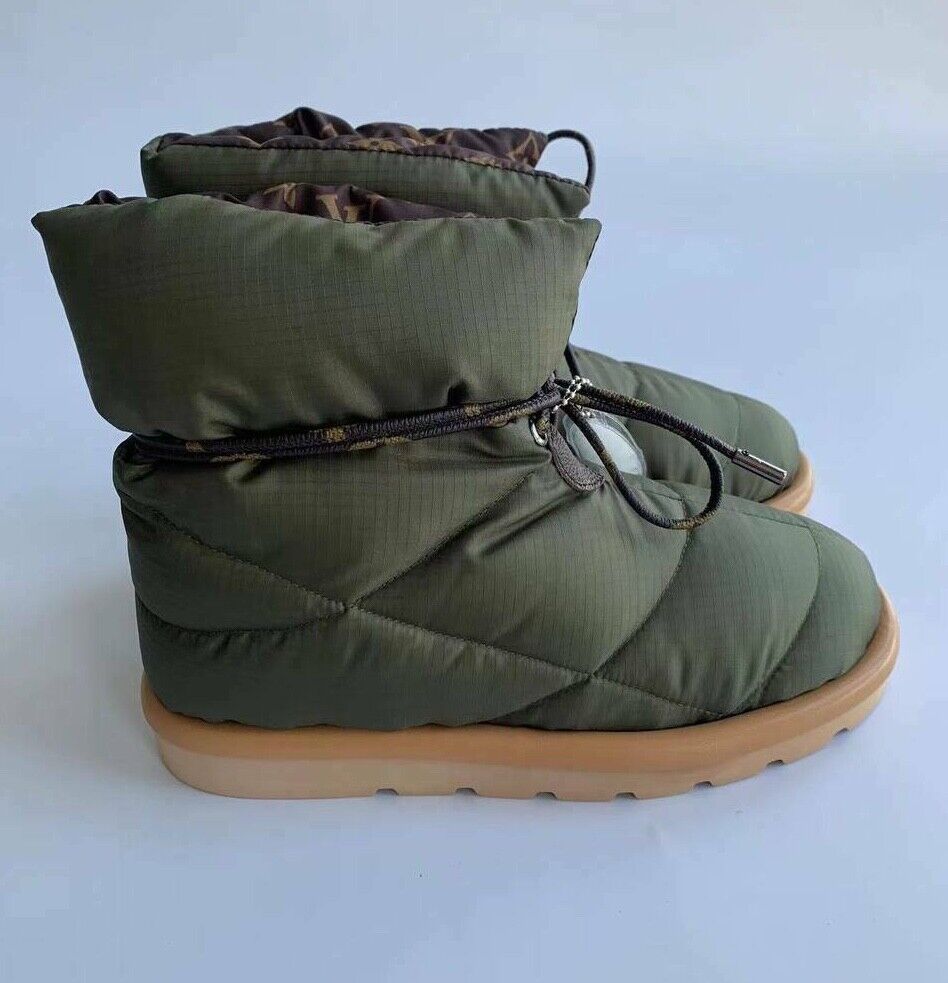 Louis Vuitton Pillow Boots Street Style
---
HEY GORGEOUS! I'D LOVE FOR YOU TO JOIN MY NEWSLETTERS.
You will be the first

to hear about the new designer dupes before everyone else!

Including, a curated edit of style tips to improve your style + top trends, shopping guides, beauty & skin care tips – all packed with expert insight.
Plus, subscribers get a chance to be picked to
WIN A FREE GIFT MONTHLY!
Let's be friends on Instagram!

@surgeofstyle