On a bright Thursday morning, I drew my beige curtains and was thankful for the good weather we seemed to be having in London.
Whilst my morning tea was brewing, I searched through my closet, skimming some of my favourite coats of this season. I stumbled across one of my most impressive purchases yet, a Fendi coat.
Ah, I remember when I purchased this coat. Actually, let's fast forward to how I even stumbled across this beauty.
It is without a doubt Vestiaire Collective is my favourite sustainable online store to find designer clothes. It's become one of those sites I religiously browse on, and my wishlist grows by an inch every month. Along with my wishlist & closet growing, I always ensure I sell clothes I don't use anymore, to make space and to also give my clothes a second life.
It was a cold morning in December and I had just purchased a white YSL fur coat, that literally broke the internet. I had promised myself after this big purchase, I wasn't going to splurge again anytime, but my shopping desire & bank account aren't exactly on the same page. Approximately 10 days after, I stumbled across this Fendi red coat with fur pockets online, and according to the listing, it was brand new and never worn.
It had 116 people interested in it, and after my research, I found out this Fendi coat originally retailed for £3,500, and was now being sold for £850, as it's from a 'last season' collection.
Pfft, what's last season to me anyway? The designer is Fendi, the coat is gorgeous, and if I spend that type of money, rest assured, I will wear this coat for years, and probably even pass it on to my future daughter.
To me, the true essence of sustainability is exercising longevity through fashion & clothing. As I am trying to be more sustainable, I ensure I do this through my purchases.
I'd rather have 2 or 3 good coats, than buy 10 cheap coats every month, which actually ends up costing me more, doesn't allow my fondness & attachment of the coats to grow as I have so many of them & they can be easily 'replaced', thus, leads to one throwing away or discarding unloved clothes.
I've been there, I've done that for many years, I've learnt my lesson, and realised I could have saved so much money in the process if I chose to be more sustainable. So I'd rather invest in a good Fendi coat that will last me for years, than buy 50 other coats with the same money and lose interest quick.
And with that being said, I swiped my card. My coat arrived in 2 days via UPS. I kid you not, as soon as the postman knocked on my door at 7am, I jumped out of bed quicker than I have ever done before.
Not even my alarm clock for early morning university lectures could make me jump out of bed so quick. Oh, priorities. Confessions of a shopaholic. 🙈
Classic Fendi ready to wear pieces usually consists of fur, statement tailoring, structured shoulders and of course, quality fabric. This Fendi red coat boasts a beautiful mix of red, white and black fur pockets. I mean, the colour of the pockets on this coat compliment the red so beautifully, you simply can't take your eyes off it!
It's one of those coats you put on and instantly feel good about yourself. The structured shoulders affirm power with a perfect amount of sophistication, the collar has a flattering cut, and the coat sleeve has a beautiful red embroidery reading "F", signature for Fendi.
Additionally, the coat's lining also had a white panelling which you can see with the Fendi coat unbuttoned, as I put my strut on.
I would simply call this Fendi coat: "the coat of dreams" as it makes me feel so good about myself every time I wear it. It is made from 100% wool so it is warm & comfortable, two essential qualities to look for in a coat. And, if you live in London.
I paired my Fendi red coat with fur pockets with my Stuart Weitzman black highland over the knee boots. Since I purchased these boots in October, they've been my signature winter boots.
Get The Look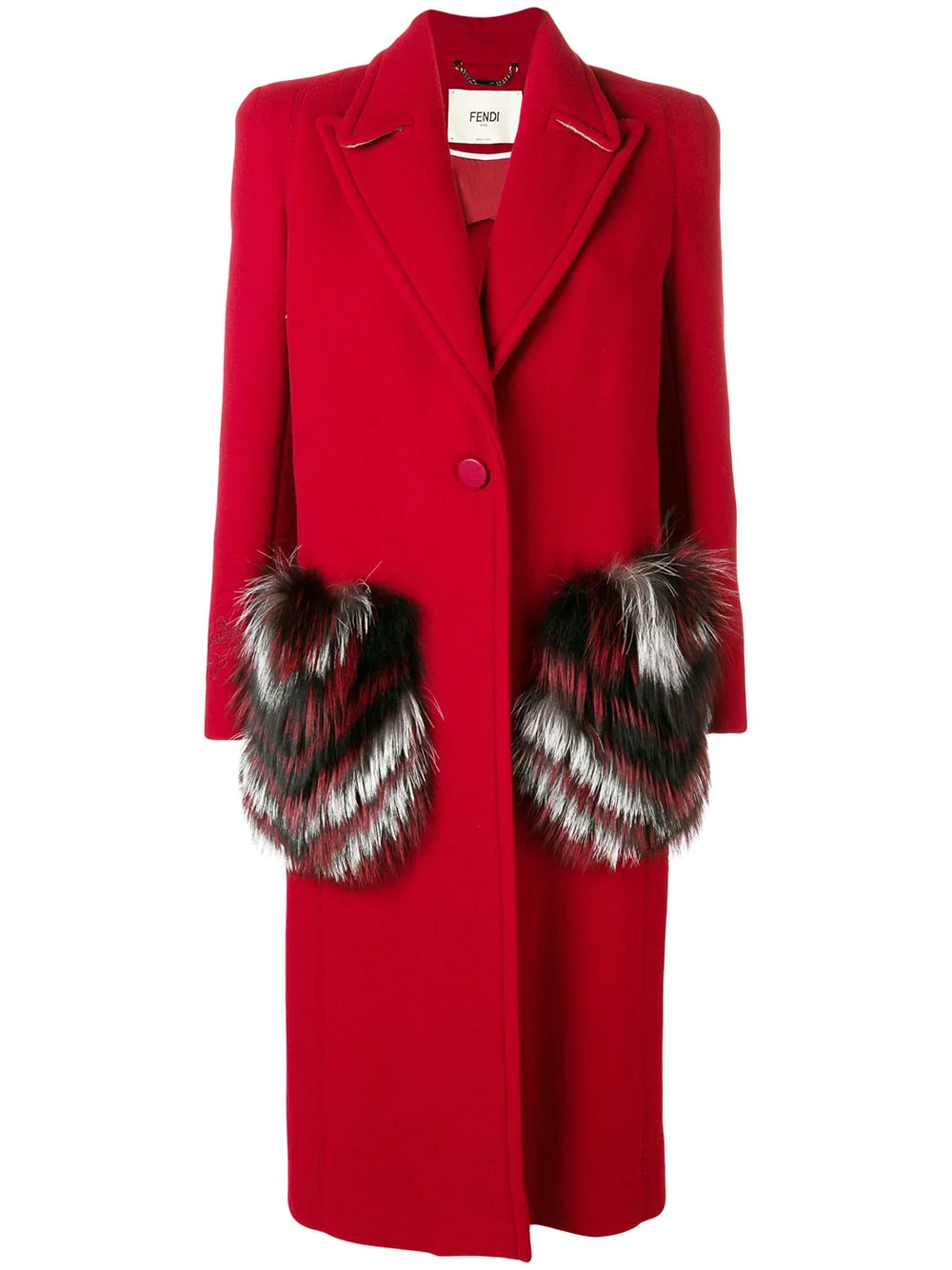 Although not currently in stock, I've picked out similar coats from Fendi so you can achieve the same look.
If your size is sold out, Net-A-Porter also stock the same boots here.
The shade I'm wearing is called "Uncensored".