I scored an Hermès birkin 25cm in orange feu, togo leather in Paris on May 2022.
But often I think to myself, why has Hermès coined this terminology of 'score' & what even might be the process of 'scoring a birkin' ?
In this blogpost, I will unpack all of the juicy Hermès details with you, and how to actually get a Birkin bag at the Hermès store.
Table Of Contents
Since the age of 18, I have had an orange Hermès birkin on my wishlist and wholeheartedly manifested that bag.
It started off with me creating a moodboard & posting it on my instagram. It was a collage of a summer dress from Jacquemus's spring collection, a few accessories and an orange birkin perched on the side.
The caption read: "Me in a few years, with an orange birkin, vacationing on a beautiful European tropical island, on my boyfriend's yacht".
Now 2/3 of those things came true. As we speak, I have a holiday booked in Cote d'Azur in the beautiful French Riviera, where I'll be vacationing in Nice, Monte Carlo and St Tropez with a few friends – one of the days will include a boat ride. Yay!
But most importantly, 5 years later, I finally made it happen and purchased an orange Hermès birkin.
When I first had the bag on my wishlist, I wasn't quite sure what size it would be in but I knew it would be along the lines of a 30cm or 25cm.
Prior to my green Hermès bamboo birkin which I wore in Paris, I'd never owned a 25 or 30cm before. My first Hermès bag was a 35cm which was a gift from my aunt who relishes in Hermès items.
Sometimes I just think to myself how grateful I am to have such a grandiose love for fashion & luxury, and have a family member who shares the same interests as me, many decades before I even came to this world, meaning I get a lot of guidance from my aunt as I navigate my way through buying luxury.
This makes me feel so grateful because it means all the knowledge and experience can be passed down to the next generation, and I think that's such a beautiful thing, as I hope to do the same to my future kids + generation.
As my aunt has been a client of Hermès for over 40 years and acquired quite the collection, she gifted me her 35cm 'travel birkin', (she called it) when I graduated from college and preparing for my first year of university. More importantly, it made me feel good because I felt like I had earned it from all my hardwork at fashion school & it taught me the value of working hard to be rewarded with something great.
The 35cm was a great bag, large enough to hold all of my essentials & could fit everything for uni: including my laptop. I remember taking it to the beach, where I was put on beach bag duty as everyone folded up their beach towels & flip-flops, which all had to be put into my 35cm birkin.
I'd never felt discomfort like I felt that day, carrying such a heavy bag, due to its weight, plus all the contents that were inside the bag. Additionally, I had also used my 35cm bag to carry shopping, was used as my everyday school & work bag, and sometimes I'd even take it out to dinner. It then dawned on me how large and heavy the bag was for everyday use.
I had then decided that if I was to get an Hermès birkin in the future, I'd opt for a much smaller size, preferably the 30cm. Fast forward 3-4 years later, and my second Hermès bag was my bamboo birkin 30cm in gold hardware, which I got last year.
I love and adore the richness of the green on my Hermès bamboo birkin, and have carried it everywhere with me, including to my first trip ever to Paris!
How To Get A Successful Appointment At Hermès
As my family, friends & I were in Paris for my birthday, one of the highlights of my trip was visiting the Hermès store. As my aunt was an established client at Hermès, she gave me tips on how to successful scoring experience – and one of them was booking your appointment at Hermès the day before, as Hermès works on an appointment-only system, (especially when trying to acquire their leather goods).
I went over to Hermès Faubourg website and booked my appointment. I got a text the following day, in the morning, that my appointment was approved and was given an allocated time slot to arrive at the store.
To book an appointment at Hermès, click here. They only allow appointments to be booked from 10:30AM – 6:30PM (Paris time), which is also the same time the store opens.
On the day of my appointment, I wore a white shirt from H&M & vintage leather jacket, paired with Bermuda shorts and my black Hermès oran sandals. I completed my look with my Hermès bamboo birkin 30cm.
My Hermès Purchasing Experience
I was greeted at the store with a warm smile, and my passport was checked. After the checks were done, I was taken to the 2nd floor & was appointed a sales associated (an SA), who then asked me what leather goods I was interested in buying today.
We began talking, and I asked her how her day was going, told her about myself & how I run 5 blogs, including surgeofstyle.com and everythinghermes.com, which was a luxury blog focused on Hermès. She checked it out on the iPad and told me she liked them. ☺️
We discussed bag options & sizes, and I told her how I've always wanted an orange birkin for the past 5 years.
I had mentioned to her that I would perhaps, like a 30cm orange birkin, as I was wearing a green 30cm birkin at the store already, which she complemented the colour and we both agreed the 30cm fit my lifestyle. She gave me the warmest smile and told me to wait while she went to check if they had any in stock.
10-15 minutes later, my SA walked out with an orange box.
"It's not exactly the size you requested, but this size has been very popular for summer and we happen to have one in stock", she said to me.
She opened the box, the Hermès tissue paper rustled in the private room, and she revealed to me: an Hermès 25cm Birkin in Orange Feu, togo leather, with gold hardware.
"J'adore". As if the first thing I uttered from my mouth was French, and I'm not even French.
"Absolutely gorgeous", I said to her. I remember asking myself, how is this even real right now? Especially in gold hardware, which is the only colour of hardware I have in all my Hermès bags, including my Kelly 28cm.
This bag is utterly beautiful… how is this even in stock right now? It's as if my dreams and manifestation of 5 years ago finally came to life. "May I?", I took the bag from her hands gently, and held it. I was surprised at the small weight of it, as the birkin 25cm weighed significantly less than the other birkins (30cm & up+).
I tried to pass my hands through the handles to hold the bags with my wrist, which wasn't as easy because the handles are much shorter on the 25cm, something I definitely would have to get used to. Being 5'9 and having a taller frame definitely affects the daily use of this bag, as the 25cm size is much ideal for petite women 5'5 and under.
But. Was that going to deter me from getting this birkin? Absolutely not.
My SA complemented me on how well the bag went with my skintone, and I also told her orange and pink were my favourite colours. Lots of chit-chatting and mirror poses later, I was ready to pay for the bag.
Hermes Orange birkin 25cm Price
My Hermès orange birkin 25cm cost €7,770. Is this an extortionate price for a handbag? Yes. But what constitutes to that is that Hermès birkins are seen as investments, worth more than gold or even in stock market. Plus, after all my hard-work and manifestation for 5 years, I thought the time had come for me to reward myself.
In addition to my Birkin, she asked if I wanted to get any accessories to go with it, and I opted for some Hermès Twillys. I then went over to the accessories department of the store. I picked 2 gorgeous silk Twillys that had hints of orange in them which complimented my bag beautifully. Both of my Twillys totalled to €300.
I asked her kindly to wrap the Twillys around my Birkin handles, which she did, and then packaged the box up nicely for me to take home.
So I present to you guys, my Hermès orange birkin 25cm in togo leather, and gold hardware. The colour of this bag is orange feu. The togo leather is tremendously softer than the epsom, which I own in the mini Kelly style. I find togo leather to feel like soft butter. It is much more luxurious to me than epsom, in my opinion.
---
Shop Hermès Orange Birkin 25cm
---
Shop Hermes Orange Birkin Alternative
This brand is a London-based luxury store that focuses on creating sophisticated high-demand womenswear which is inspired by the top luxury brands in the world. This orange bag is the perfect Birkin & Kelly dupe, made using the finest of materials; this sustainable piece will last you a lifetime.
---
Inside of my birkin has with two pockets, one at the front, and a zipper pocket at the back. I find that the Hermès birkin 25 holds surprisingly a lot, without weighing a tonne, as opposed to its 30 or 35 mates. Personally, I think the orange feu is the perfect birkin for summer.
---
Shop Hermès Orange Birkin 25cm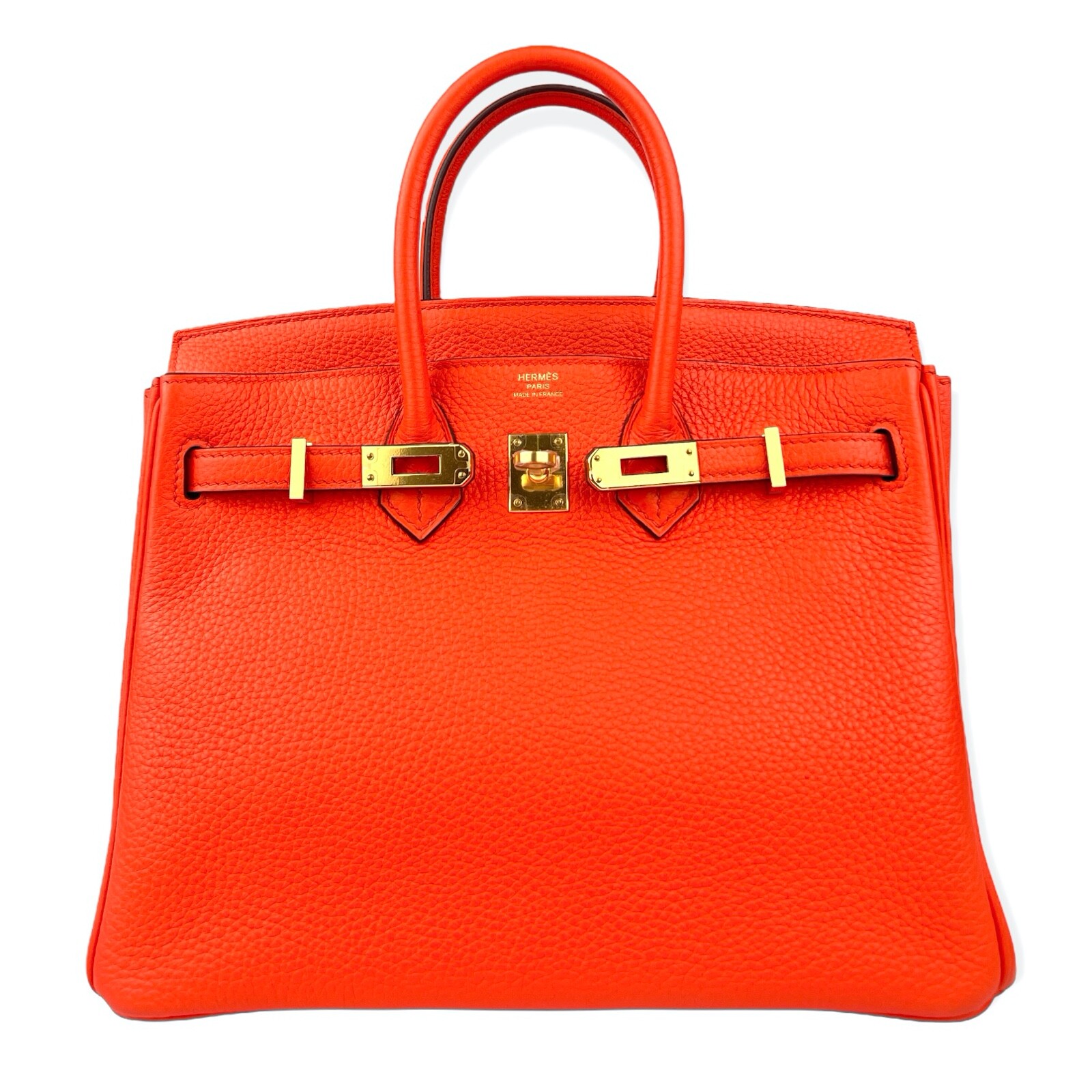 ---
I've never met a bag that goes with practically everything in my closet. I can pair this bag with a summery dress, a white tee and jeans, a printed top, and all black outfit, anything. It adds the perfect amount of colour pop & sophistication to an outfit, which is what I live for.
How To Get An Appointment At Hermès In Paris
1. In 2022, Hermès has a new system of appointment-only, if you are trying to acquire any of their leather goods (bags, belts, shoes, etc). You might go to the store without an appointment but you'd have to queue up, plus, you are likely not to get attended to immediately, the store in Paris can be very busy and the SA's will be busy assisting other clients with appointments.
Ensure you make an appointment with Hermès one day before you intend to visit the Hermès store. Appointments can be made here (between 10:30am – 6:30pm).
2. Ensure you arrive on time for your appointment, and have your passport & other forms of ID on you. Hermès like to do background checks on their 'potential' customers as they are very picky on who they allow you buy their 'very expensive' leather goods. This is because they try to avoid selling to people who don't really love the brand, but want to get their hands on a Birkin or Kelly, just to resell it for double the price elsewhere. They clamp down hard on 'resellers'.
I guess, in a way, they like to make sure their customers are good ambassadors for Hermès, as reputation is highly important to them.
3. When you get appointed an SA, there are a few things you need to do. Upon your first interaction with your SA, ask them how they're doing. I find that showing a little interest in their wellbeing and going the extra mile to be friendly and 'human' towards them goes a long way. For example, an interaction could go like this:
---
Shop Hermès Orange Birkin 30cm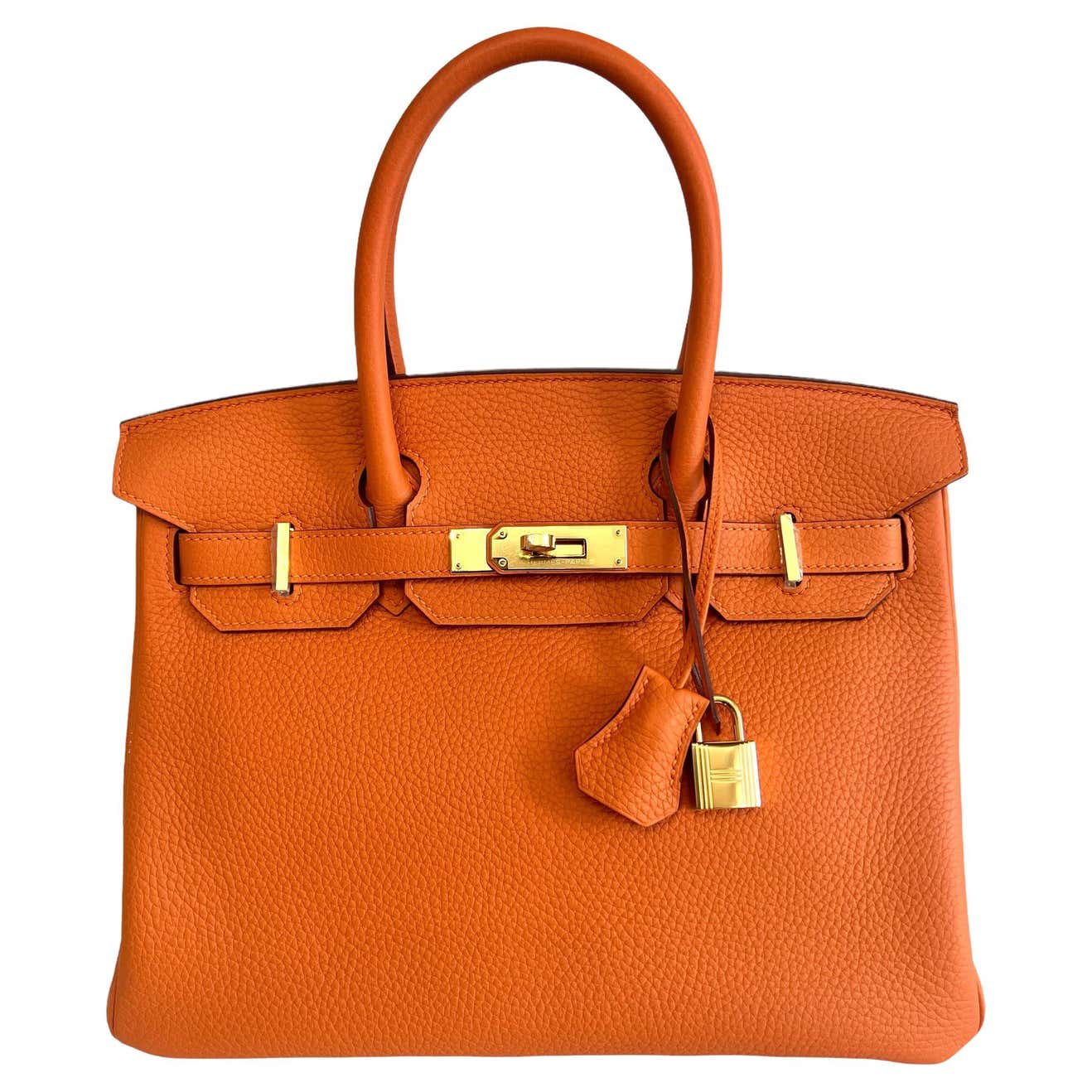 ---
Hermès Store Scenario Example
Hermès SA: Hello, welcome to Hermès. How may I help you today?
You: Hi, thank you. I'm Benita, what's your name? I'm interested in buying some of your leather goods. How is your day going? I see you have an amazing selection of goods in your store.
Hermès SA: Of course. My name is Amelia. My day is going good, busy as usual. Any products in particular you're after?
You: Well I am a huge fan of the Hermès birkin, and my preferred size is the 30cm. I also love the togo and epsom leather, and I love neutrals, so I am open to the colours Etoupe or Etain, preferably with palladium hardware. I would like to try on what you have in stock.
Browse Hermès colours here.
Hermès SA: Good choices, I'll have a look for you to see if we have any in stock. Is there anything else you're after?
You: Well, this winter I'm planning to go to Switzerland and I would really like to get some boots. I had a look on the Hermès website and loved the style of the jumping boots. I would like to try on the Noir boots please, in Size EU 39.
Hermès SA: Very nice! Switzerland is a good choice and our jumping boots is a very good classic choice. I will get that for you. Please wait a moment.
*your SA manages to get you 2 birkin options, and also gets you the noir jumping boots, you both move into a more private room where you can try on the items in front of a large mirror*
You: Ah, thank you so much. *You begin to try on the jumping boots first*.
Hermès SA: So do you know where in Switzerland you're going to?
You: Geneva. I'm going with my family and we are going to explore around the mountains so I'd love nice comfy shoes to do a lot of walking in.
Hermès SA: Ah, Geneva is beautiful! I have been a couple of times. It can be quite cold, especially during the wintry months. Actually, the jumping boots have a nice box calfskin leather can will protect your feet from the snowy grounds in Geneva.
You: Oh you've been to Geneva? That's amazing. Do you have any restaurant recommendations in Geneva? We want to have a true Swiss experience. Also, the boots feel really comfortable and the leather feels so superior & smooth.
*You try on the noir boots with an Etoupe birkin and talk about how well they go together and all the places in Switzerland you can wear your Hermès birkin & boots to.
You are eventually sold on the combination of both the Etoupe birkin & the noir jumping boots, and you pay. You've now built up a rapport with your SA and a buying history with Hermès.*
I could go on for long, but the point I'm trying to make here is you build a rapport and a friendly relationship with your SA. Of course, keeping things professional, but you let your SA get to know a bit about you, your style and lifestyle, and show loyalty to the brand by purchasing a variety of their products.
That eventually results in your SA having you at the top of their list whenever a special orders come through, and that way you're more likely to score more Birkins & Kellys in the future.
---
Shop Hermès Orange Birkin 30cm
---
The Steps I Followed To Score A Birkin In The Store
4. Although a lot of stories I've heard from other Hermès customers is that you need to have an extensive buying history at Hermès, and although that is partially true, you don't need to spend the same amount you would on a Birkin or Kelly, on other items (like homeware, kitchenware, or even jewellery) to be offered a Birkin or a Kelly.
Hear me out.
To name a few, my first ever purchase at Hermès was a silk scarf. After that, it was 2 Hermès oran sandals. And after that, it was a green Hermes birkin 30cm. Did I spend birkin money to acquire a birkin? No. But I think a few factors helped.
I had purchased something in the past from Hermès. I also had Hermès bags in my collection, prior to that. I'd also like to mention, as my aunt is a long-standing client of Hermès, she has passed a lot of knowledge to me about the brand, which I think helped me score a bag.
I was myself. I built up a friendly rapport with my SA, and told her about myself. I told her how I have been working in luxury fashion since the age of 15 (as a stylist), and that I run fashion blogs, one of them being a blog about Hermès! (www.everythinghermes.com). I think a part of my SA saw me as a good ambassador for their brand, which is what Hermès looks out for, before offering a client a bag.
I had good knowledge about the brand, like its history, the materials used on the bags like the type of leathers, hardware, sizes, colours, etc. It shows that you are passionate about the brand.
I was extremely passionate about how I've had certain Hermès bags in my wishlist for years and how I practically dream about them. There was a type of passion and desire I think my SA saw in my eyes, and she simply just wanted to make my dreams come through, which I am very grateful for.
---
Shop Hermès Orange Birkin 25cm
---
---
Browse all authentic Hermes orange birkins from fashionphile at the lowest price of £9,000
---
My Hermès Bag Wishlist 2022
As I'm currently on 1 out of 2 for my quota bags this year, I already know my next Hermès bag purchase. It's quite a popular bag, and is deemed as a classic because it's a neutral colour, and the size is quite popular amongst the Hermès community due to the versatility of it.
Do you have any ideas of what it might be? 😁
---
The next bag on my Hermès wishlist is an Hermès Kelly 32cm bag, gold colour with palladium hardware, in togo leather. Preferably, the retourne style as I love a relaxed look to my Kellys. I have manifested this bag for way too long and I am confident because I know that I will acquire one, sooner rather than later.
Because let's face it, you have to be confident and claim your desires into the universe, don't we? That's the only way to make them happen.
Currently, I have 3 Kellys in my collection: two 20cm Kellys, and one 28cm Kelly, so I'm excited to finally add a 32cm to my collection. It would be the perfect bag for work, errands, university, travel and many more. The selling point to me with Kellys (I'm sure Kelly lovers might back me up on this one), is the shoulder strap. To have your hands freed up while carrying an Hermès bag is a joyful feeling. Any takers?
I look forward to sharing my next Hermès purchase with you guys! Speak soon 💌
More From Surgeofstyle