The new fashion series, Emily in Paris practically broke internet due to its exceptional plot of a marketing executive, who moves from USA to Paris, to give an American perspective at a French marketing firm.
In Paris, she faces a whirlwind of intense friendships, romantic triangles, unfriendliness from her work colleagues, cultural awakening & differences, and many more. She endures all this whilst looking fashionable of course, as we can not ignore the fact that Emily in Paris draws in a fashionable audience & its outfits are one of the most talked about on the internet.
We had major fashion moments from Emily in Paris in both season 1 & 2 of the series, however, we have found all the details surrounding the outfits in Emily in Paris season 2, and can't wait to share with you today.
Whether it's the exact outfit you're seeking, or a cheaper alternative, there's definitely something in here for you Emily in Paris fans, as we dive deep into each episode and the outfit details.
Season 1, episode 2:
The scene starts off with Emily jogging, whilst listening to music on her Apple AirPods Pro. She pairs her look with a pink oversized PLT jacket, which you can find. similar one here,
Here Camille wears a Balmain white double breasted blazer (£2,500), which you can buy from Farfetch here. She also paired her blazer with some high waisted wide leg pants like this one, and completed her look with a plain white top. She also wears sunglasses by She wore these platform boots from Nodaleto, however, here is a cheaper version from River Island for only £65.
Get The Look
---
Mindy's drag show outfits
Camille's look:
Camille wore a YSL cut out bustier mini dress to Mindy's drag show. She styled it with opaque black tights and had her hair sleeked back in a ponytail. For her outdoor look, she wore a YSL leather jacket, and a mini bag by Corperni, £288.
Get The Look
---
Emily In Paris birthday outfits
Emily's pink and black dress:
Emily wears a Rotate pink big bow and black dress while receiving a bottle of Dom Perignon from Camille for her birthday.
Get The Look
---
Mindy's neon green yellow sleeveless dress worn to Emily's birthday
Mindy wore Oscar De La Renta neon yellow 2017 dress which is now sold out. However, you can buy alternative here. Contrary to the narrative of Mindy being the daughter of a Chinese billionaire, it's no surprise she effortlessly rocks an expensive Oscar De La Renta runway piece as a casual birthday dinner look.
Get The Look
---
Camille's grey jacket and skirt she wore to Emily's birthday
Here, Camille wore a Coperni crop blazer (shop: £824), Coperni extension asymmetric skirt (shop: £246) and a matching vest top (shop: £301) to Emily's birthday dinner where she found out that Emily & Gabrielle betrayed her.
Get The Look
---
Emily having coffee wearing yellow coat and pink boots – Season 2 Episode 10
Get The Look
---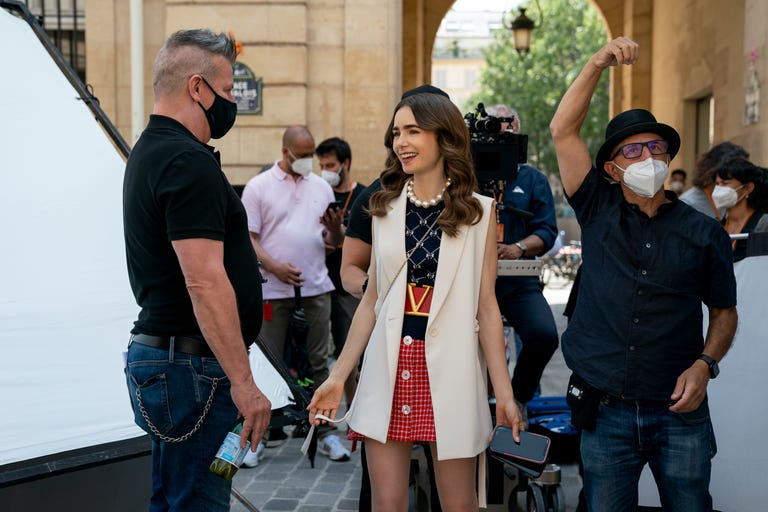 Emily wears ZARA white waistcoat which is now sold out. however, you can get an exact one from SHEIN for £16 here, or a more sustainable luxurious waistcoat from. She wears a big pearl necklace (£3.99), which you can find here. However, you can opt for a more sustainable pair from Vivienne Westwood for £479, shop it here
Get The Look
---
Emily In Paris St Tropez outfit: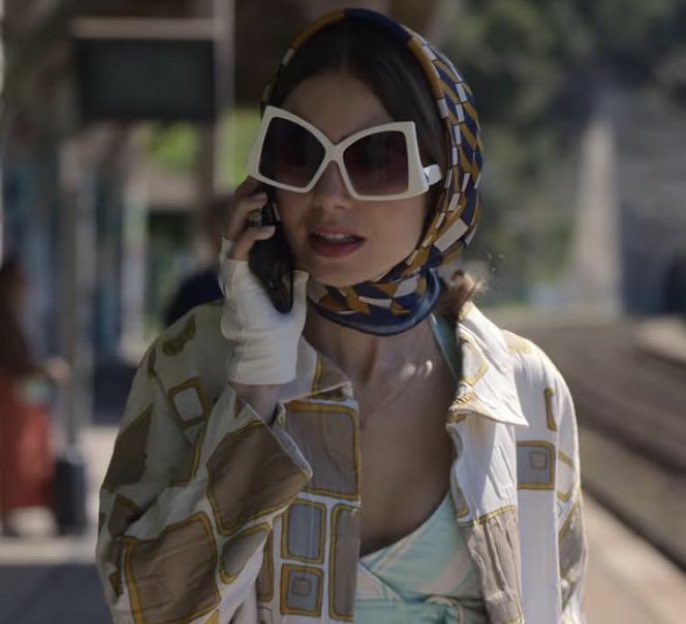 When Emily gets off the chauteau arriving at St Tropez, she wore Maison Valentino. She wears white gloves by Seymoure and Valentino butterfly frame sunglasses which you can get on eBay for £233. However, here is an exact pair from Dolce & Gabanna, £138, shop it here. She wraps a silk scarf around her head for an utterly chic finish.
Get The Look