Specifically, Netflix.
It wasn't until 3 years ago that I added the word "binge" into my vocabulary. A word that derived after I became a self proclaimed binge-watcher from consistently watching Netflix. I can imagine my watch hours are probably the same amount as Beyoncé's bank account – which isn't particularly healthy, but that just proves that Netflix remains my number 1 choice for film entertainment.
Definition: to binge is to watch a whole Netflix series in one sitting.
There are various factors that influences Netflix being the media that I consume and I will be discussing that with you today.
But first, I will dive into the meaning of what sociological factors are.
What are sociological factors?
It simply means social factors that affect human behaviour. Examples of this factors include family, social class, reference groups, culture and subculture.
There are various sociological factors that affect my decision of Netflix being my chosen entertainment for film entertainment, as opposed to its competitors HBO, NowTV, LoveMovies, and more. Netflix consistently remains my top choice due to reasons like:
It's family membership plan
Movies & shows that are recommended to me by my friends
It's affordability and how that ties in with my social class and income
My culture and how inclusivity & representation are a part of Netflix's values
Let's take a deeper dive into my analysis.
Family
My family uses Netflix. Even so, we are on a family plan which costs £14.99 monthly, and allows for over 5 screens. A pastime that is common in my family is how we have movie nights, which brings us all together and we watch a movie on Netflix. Netflix has become this tool that subconsciously brings people together. It allows for my family to all come together and watch a movie after a long or hard data work, and acts as a positive stress reliever. It also allows us to escape from reality
Family is on Netflix
Friends
Friends is a huge determining sociological factor for how it influences my choice of Netflix as my media of choice. About 80% of my friends watch Netflix. In fact, most of our discussions are usually based off what shows we have seen recently, and a deeper analysis of the movie and how it influences our day to day life.
A recent show called Emily in Paris was recommended to me by a friend of mine who is a fashion stylist. On the same day she recommend it, I watch it that evening. I loved it. So, I called her on the phone and we talked about it. She pointed out a lot of the outfit choices on the show, the plot which had a bit of similarities with our life (like the fact main character Emily is a marketer), and how the show made her want to go to Paris. After watching the show that my friend recommend to me, we have decided to book a trip to Paris by the end of the year for Christmas.
There is a level of trust that comes from my friend's and her recommendations, and this hugely influences the choice of media I consume because I trust my friends and we have similar taste. Around that same weekend, we took a trip to the department store and bought some clothes that some of the actors in the show were wearing. I purchased some of the outfits my friend recommended to me because This is because I trust her opinion, care about her and she is aspirational.
---
Social Class

Perhaps one of the biggest external factors that influence my choice of consuming Netflix as my chosen media is it's affordability. Netflix prices its membership from 8.99 USD monthly, which converts of 6.49GBP for a basic membership for 1 person. It's affordability is one of the biggest factors that draws me to it because it is a price I can afford monthly for the scale of entertainment it provides me with. As a student, I work part time, and although I'm not a huge earner at the moment, the price of the basic plan fits well with my lifestyle. This affordability is also a tremendous reason Netflix is popular with students and young people because it suits their lifestyle and income perfectly.
With Netflix having a relatively low and affordable membership price, it attracts consumers of all social class which is highly effective with consumers choosing Netflix as their chosen means of entertainment. This is because, Netflix allows its users to access the platform anywhere, anytime, e.g., on their laptops, computers, TV, which is likely to attract families with income ranging from £10,000 + and upwards because most families have some sort of electronic device like TV or a computer in their home.
Netflix even allows for users to access its platform through video games like XBOX, Playstation, Nintendo, etc. These video games are used by users from age 10-20+, who are likely not high earners but might have a smaller source of income. I also fall into this category because I have a Nintendo WII, TV and playstation in my room. Due to this, I occasionally watch Netflix through those means because it is easily accessible and convenient.
---
Culture

Since the adoption of its streaming media service, Netflix has had a huge impact on culture and the way in which people view television today.
With todays widening diversityThe streaming service is inclusive and has shows from different cultures. These cultures include, American, British, Indian, Nigerian, Spanish, Chinese and many more. As you browse through Netflix, you are sure to find a show that appeals to your culture.
Netflix's executives approached University of Southern California professor Stacy L. Smith and her team at the Annenberg Inclusion Initiative where she stated:
We need to see more. … Proportional representation is literally the first step, and if they're not there, that's a major problem.

Stacy L. Smith
The sociological factor, culture, influences my choice to consume Netflix because I am Nigerian, and a fan of Nigerian movies, also called 'Nollywood'. I find myself watching Nollywood movies a lot of Netflix as they are highly entertaining and makes me feel represented.
According to data from streaming service RealGood, Netflix has a total of 3,781 movies worldwide. Netflix has a total of 40 Nollywood movies, last recorded in 2020 by news site, AmplifyAfrica.
One of the biggest Nollywood movies ever produced and previewed on Netflix is 'The Wedding Party'. This movie racked up over 1,000,000 views within the first month of its launch. The movie was about a wedding party that took place in Nigeria. The selling point of the movie was the cultural celebrations and display that was projected in the film.
I was highly influenced by how the movie reflected culture through the narratives, characters, beliefs and settings. It also explored the outlook of from two different Nigerian cultures. Lots of connotations and jokes were made in the movie which made it highly entertaining. For me personally, it was very reminiscent of home.
The way the culture was represented in the movie was beautiful to watch. They were flamboyant dresses, cars, houses. The parties were so good that it made the viewer wish they were even in the movie. I enjoyed this movie so much I introduced it to my friends from other cultures, who also loved it. The showcasing of the beautiful culture attracted viewers, even internationally. Due to the public ratings, the demand was high for this film which prompted them to make a part 2 of the wedding party which is also on Netflix.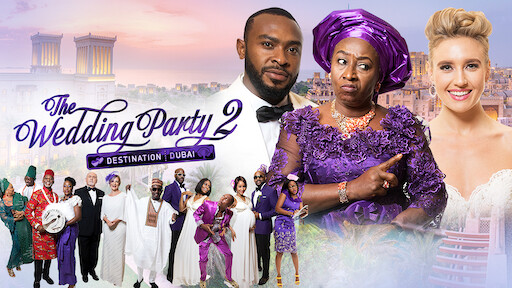 In conclusion, Netflix remains my top choice for media consumption as it is a positive stress reliever, that also brings my family and friends together and gives us loads to talk about. As my friends and family are very close to me, they are big sociological factors that influence my choice of choosing Netflix because it is something they use in their everyday lives. They also give a positive feedback on it which influences me to want to keep watching Netflix.
Additionally, the fact that Netflix has users that range from different age ranges, this will influence their marketing strategy by keeping the membership price affordable, because a low price will attract all incomes. They will also continue to tailor movies & shows to each user, making their experience personal. In my case, this is shown by the fact I have an interest in fashion – Netflix tailors fashion series like "Emily In Paris" to me. If I enjoyed the series and give it a good rating, Netflix sees that I like it and continue to recommend more movies like that to me. This then ensures that I will keep coming back to watch some more.
This post can only be seen by me & UCB tutors for marking.