Whenever it's the winter season, I always get excited for one essential piece of clothing; the item that elevates all outfits; the item that make my style so effortless, oh, and let's talk about the class of it all: The brown wool coat.
The brown wool coat has become an essential in winter dressing, and this comfortable trend is here to stay. Whether it's a capsule wardrobe guide, or a must-have coat edit put together by experts, the brown wool coat is a staple that will forever be endorsed.
Its sleek design and cut, versatile colour and effortless silhouette is what makes it a selling point. Additionally, a brown wool coat is so classy, it retains the ability to go with any outfit. Perhaps, you throw on a white tee, some jeans, and a brown wool coat: perfect. Or, an all black look with a turtleneck, or a formal dress, and a brown wool coat: also perfect.
The brown wool coat adds a layer of sophistication to your outfits bringing your style to the next level. And the beauty of this coat is, there are workable versions for both men and women. There are different variations of the brown wool coat. Some are belted, which allows you to sinch in your waist, giving your look a nice feminine touch. Some have different lengths, sleeve cuts, and collar placements. It could also have buttons.
For today's look, I threw on my ZARA brown wool coat which I purchased in 2018. At the time, it retailed for £120. It is made from a very thick, quality wool, has 2 deep pockets and comes with a tie belt which allows me to alternate my look between 'loose-fitting' and 'belted'. Today, I opted for a loose fitting look as I wanted to reveal my turtleneck dress underneath.
The key to finding the best brown wool coats is in the fabric type, cut and silhouette. I personally like to opt for wool coats with a belt tie, because it gives you versatility with your look, allowing you to style it in different ways.
Shop Brown Wool Coats
1. This COS number is a classic. It has flattering cuts and its belted feature makes it very versatile – perfect for any woman's wardrobe. It is also very identical to my ZARA wool coat (which is now sold out.)
2. This is the definition of a statement coat, by &OtherStories. It is a very neutral brown which means it can easily go with colours like black, white, brown, and even bright colours. Also, how incredibly warm does it look? 😍
3. UK based clothing store, Pretty Lavish, who are now stocked in Selfridges boasts a beautiful collection of coats. Particularly, this brown woven coat is one of their bestsellers.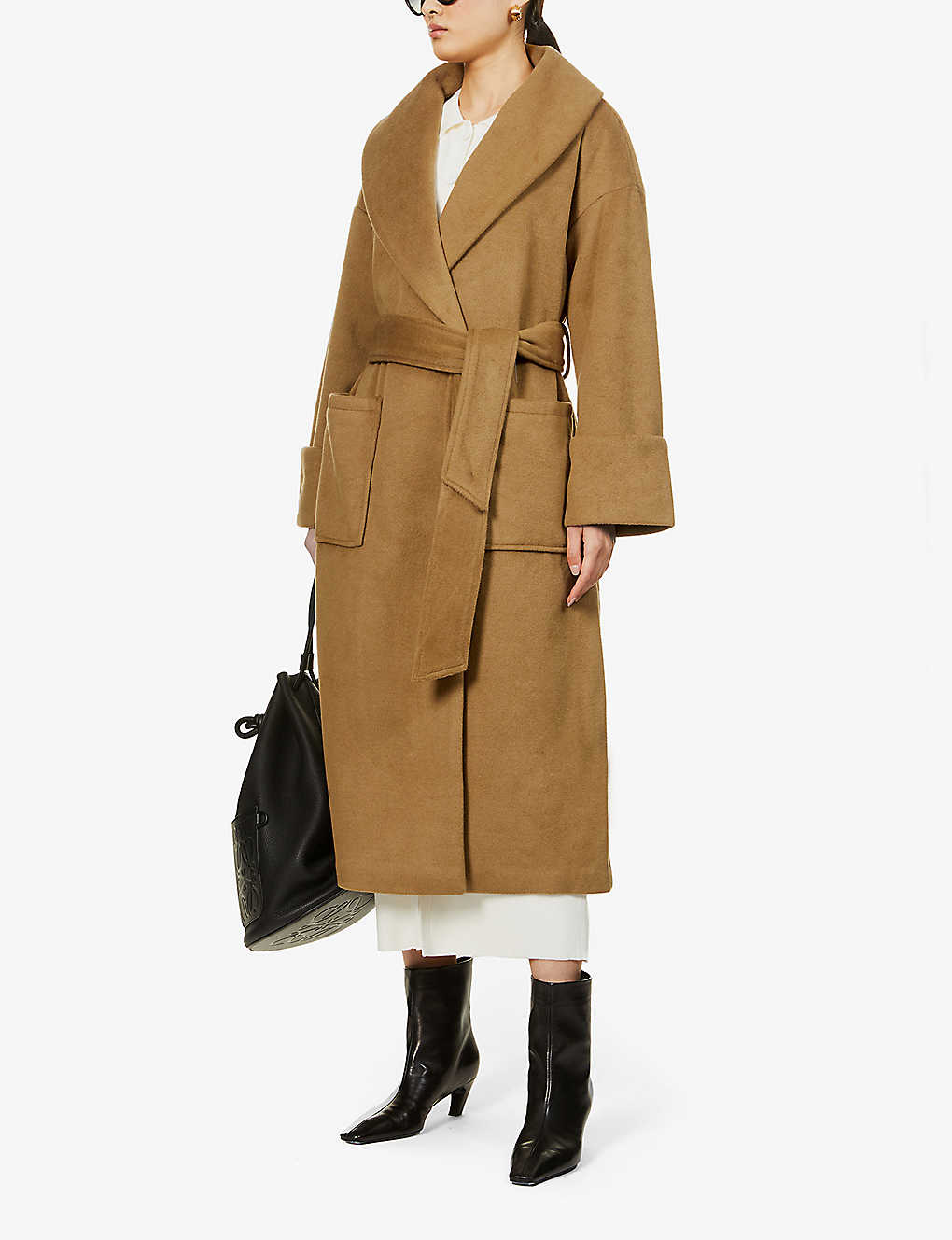 4. Lastly, we've picked out this gorgeous wool coat (available in 5 colours) from Lattelier, a modern clothing store, crafted with high quality materials. This coat is a classic, and I could definitely see myself wearing this for the next 10 years.
---
Sustainable brown wool coats:
---
High street brown wool coats: